Stag Party Tank Driving
Give the Stag an unforgetable party, Let him crush a car with a 56 tonne tank on his Stag Party!
Our Stag Parties are the ultimate amount of fun for your wedding group. We can customize the party to suite your budget with different vehicles and activates with the Stag crushing a car with a tank as the grand finale!
You can also hire our world famous TankLimo as seen on TopGear to drive you around on your night out afterwoods.
Facebook Reviews
Our unrivalled driving experiences aren't tasters, but don't take our word for it, Read our Reviews
The Ultimate Stag Party Idea
Tanks-Alot offer a standard Stag Party package:
The Stag Drives a British FV432 Armoured Personnel Carrier, Russian 2S1 Gvozdika and finally crushes a car with 1 of our 4, Chieftain 56-tonne Main Battle Tanks.
The rest of the Stags group get to drive the FV432 and 2S1 Gvozdika.
Additional Activates:
We are able to add additional vehicles such as the Springer All-Terrain Vehicle (4×4), Stormer HVM (High Velocity Missile) carrier or a beast FV 180 Combat Engineer Tractor.
Other activates can include, shooting RC boats on our lake or clay pigeon shooting.
We can cater the group with a hot lunch as well as overnight camping in our woods.
Stag Party Prices:
Prices are fixed for the Stag on the basic package and per member of the group. Any additional vehicles, activates and lunch are additional chargeable costs.
Tank Driving Experiences Vehicles
The principal vehicles we use on our Tank Driving Experiences Vehicle. Please note the FV180 is a back up vehicle should another break down. ALL our tanks and Fighting Vehicles are in service with the British, Russian, Israeli Armies and a total of 40 other countries.
The Chieftain
The FV180
The 2S1 Gvozdika
The Stormer HVM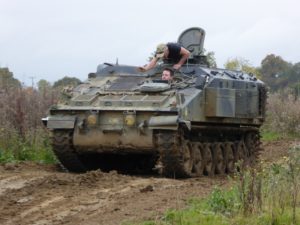 The FV432
The Springer ATV